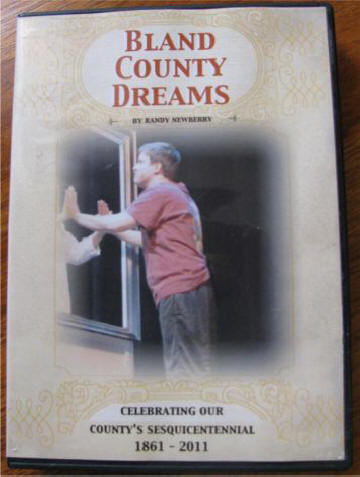 DVD of the play

,


BLAND COUNTY DREAMS,




performed at the Wohlfahrt Dinner Theatre in Wytheville, October 2011. A play written, produced, and directed by Randy Newberry on the history of Bland County and presented in 2011, during the county's Sesquicentennial celebration,




approximately 1 hour in length

The DVD sells for $15.00 each at the BCHS office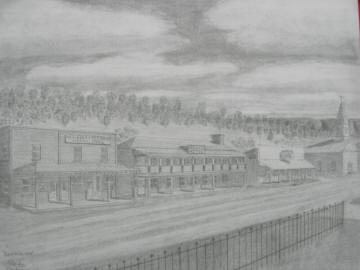 An historic drawing of part of downtown Bland in the 1940's. Includes the Presbyterian Church, the hotel, and Newberry's store. Drawn by artist Randy Newberry.
The drawing sells for $15.00 each at the BCHS office and can be shipped for $18.00
2013 Note Cards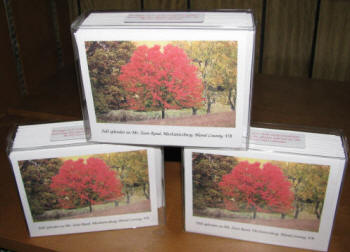 Gift boxes of 13 note cards/envelopes, featuring the color photos in the 2013 Bland County Historical Society Calendar. Boxes are sturdy clear plastic, suitable for gift-giving, and sell for Contact the Society office for more information, 276-688-0088.
$18.00/box at the shop, or may be shipped for $23.00. May also be purchased individually for $2.00 each.
BLAND COUNTY NOTE CARDS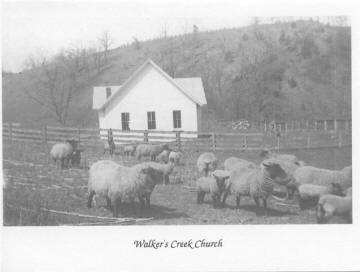 This note card, depicting the Walkers Creek Church, is a sample of the note cards that are for sale at the Bland County Historical Society. Each card is made, in-house, on sturdy card stock, and contains a history of the photo on the back of each card. Envelopes are included with each card. The note cards that are available are Walkers Creek Church, Bridge over Wolf Creek in Rocky Gap, John L. & Christian Day Shrader home, Red Oak Church, Parke Coleman Bogle portrait at 2 years old, Newberry's Chapel Methodist Church, historic Town of Mechanicsburg, VA, drawing of Kimberling Springs Hotel, view of Ceres, VA, Byrnes Chapel United Methodist Church, drawing of Bland County Jail 1866, historic winter scene of downtown Bland, Bank of Mechanicsburg, and The Ashworth home, The cards sell for $1.00 each at the BCHS office, or can be shipped for $2.00 each.
The cards sell for $1.00 each at the BCHS office