Rocky Gap resident recognized for building community.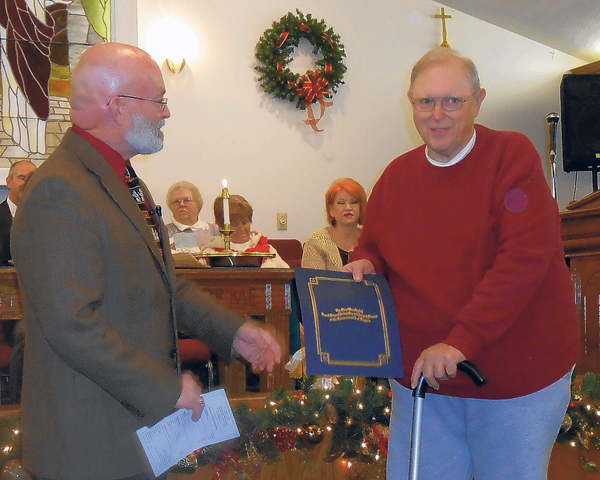 Dec. 8, 2013, brought a surprise for James Sink as he was presented the Community Builders Award at his local church -- Rocky Gap UMC in Rocky Gap. The Community Builders Award is given by the Blue Lodge of Masons to an individual in the community who is not a Mason and is involved in making the community a better place and James does that.

The Rocky Gap Masonic Lodge Master Robby Davis asked the Rev. Rodney Lawson to represent the Lodge in giving this award to James Sink. James has been active in Rocky Gap and all of Bland County.

Born in the Mechanicsburg area of Bland County he has lived in Bland County his whole life except for the time he spent at Emory and Henry College. James and his wife, Doris, still live in Rocky Gap today. After graduating from Emory and Henry in 1967 James began his teaching career at Rocky Gap where he taught math and French until his retirement in 1999. He has and is still active in many civic organizations, Ruritan, Veterans Memorial, Bland County Fair Association, and retired teachers not to mention the various offices he has held in each.

James has also been very active at Rocky Gap UM Church, teaching Sunday school class since returning from college which he is still doing. He is active in the United Methodist Men holding offices both locally and at both the district and conference level. He has also served on the Board of Ordained Ministers, both at the district and conference level.

James is involved in so many activities but we cannot leave out the canning, especially the apple butter James has been responsible for, all of which was sold with the monies going to mission support both locally and through the church, around the world.

It was with great pride that the Rev. Rodney Lawson along with Bob Thomas and Richard Waddell of the Rocky Gap Masonic Lodge presented this award to James.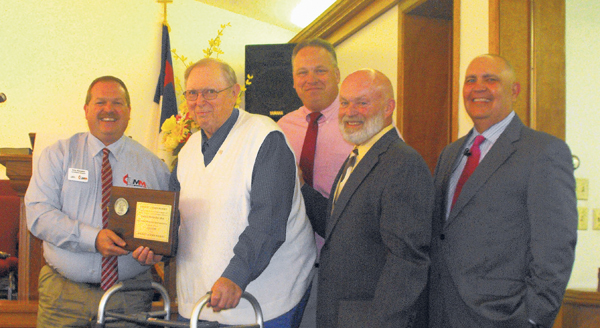 Pictured from left to right are Eric Knoefel, James Sink, Jeff McMillion, Rev. Rodney Lawson, and Dr. David Tabor presenting the Society of John Wesley Fellow to James Sink.

On June 1, a delegation of men representing the UMM of the Holston Conference made a special trip to Rocky Gap UM Church. Dr. David Tabor, District Superintendent of the Tazewell District of the Holston Conference, along with Eric Knoefel, President of the United Methodist Men of the Holston Conference, and Jeff McMillion, President of the Tazewell District UMM, came to visit for a very important reason. These three along with Rev. Rodney Lawson, pastor of Rocky Gap UM Church, presented James Sink with a plaque recognizing him as a Society of John Wesley Fellow.

"The Society of John Wesley is a fellowship of individuals committed to the support and expansion of United Methodist Men's ministries. Fellows in the Society of John Wesley are known by their witness, vision and stewardship that enhance and strengthen the mission and ministry of the church. The society was created by the United Methodist Men Foundation to promote greater awareness of the Christian principles and practices embodied in the church." This quotation was copied from the UMM Society of John Wesley web page.

James Sink, who has served on perhaps every committee, board and office a lay person can serve on, has given so much of himself both locally and across the Holston Conference that when his health dictated that he cut back it was determined by the conference UMM officers that he was deserving of this recognition. He is still the President of the Rocky Gap UMM. The Fellowship requires a substantial financial contribution which was collected from many in the Rocky Gap UMC, the District and Conference offices of the Holston Conference. Contributions were also received from the District and Conference United Methodist Men. James is so well known and thought of both locally and across the conference that collecting the money was only a problem in that people wanted to give more than was needed.