Laura Asbury.
Bland HS grad honored at WCC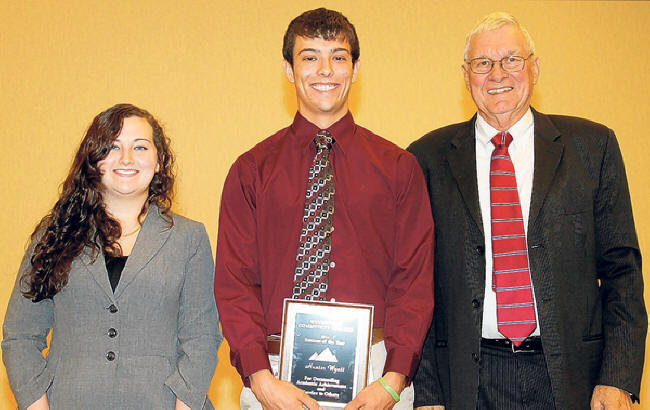 Laura Asbury of Bland (left) shares Wytheville Community College's Student of the Year award with Hunter Wyatt of Sugar Grove (center). WCC President Charlie White (right) announced the tie at the college's annual honors convocation.
Leadership skills, a 3.2 grade point average, campus activities and community contributions earned a Bland County resident the honor of Wytheville Community College's Student of the Year.
"I knew I had been nominated," noted Asbury set to graduate May 9 from WCC with an associate of arts and sciences degree in science with a specialization in engineering. "But I was surprised and happy to get the award."
The announcement came at a recent honors convocation assembly at WCC. As winner, Asbury received an engraved plaque and a $100 check.
She is a 2012 graduate of Bland High School and has lived in the county since she was 14. Asbury is the daughter of Nick Asbury and the late Melissa Asbury.
She has a younger brother, Buddy Asbury, a senior at Bland High School, who plans to join the U.S. Army. Their grandparents are Lace and Bobbie Asbury of Wytheville.
In the fall, Asbury will attend Virginia Tech to earn a bachelor of science degree in ocean and aerospace engineering. The sea or the sky will be her limit.
"I would like to work overseas," she said. "I could be working on submarines or boats or anything in the sky. I don't know what I'll do just yet."
According to her, she was nominated for the WCC Student of the Year by a faculty member. Asbury was among four other nominees.
No stranger to awards, she received the Valley Proteins Fellows Scholarship from the Virginia Community College System. Asbury was among only 10 students in the state's community college system to receive the yearly scholarship. She traveled to China as part of the program.
At WCC, she is treasurer of Phi Theta Kappa and a student ambassador. Asbury serves as vice president of the Student Government Association and is a member of the Science Learning Community.
Also, Asbury serves on the WCC 50th Anniversary Committee. She served as a work study student in the WCC Educational Foundation.
Asbury volunteered at HOPE Ministries Inc. She is a member of the All Virginia Academic Team and a Coca-Cola scholarship recipient.
Asbury has participated in NASA's National Community Aerospace Scholar program, too.
"Hopefully, I'll be working this summer," she said. "I have a job now and I'm looking for a second one."