Backward Glance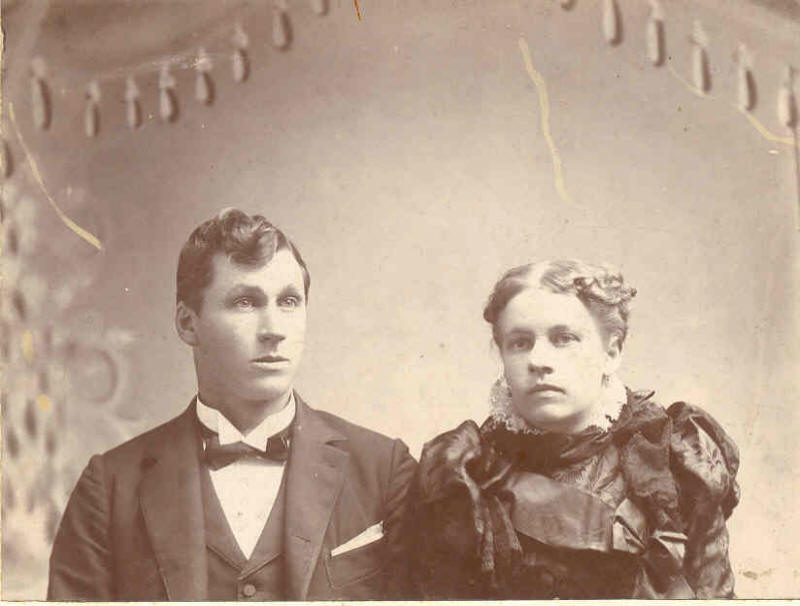 Pictured is Robert Ezra Munsey and Agnes Gertrude Updyke Munsey, on their wedding day, October 6, 1897. Robert died just 5 years after their marriage, and Gertrude, who never remarried, lived to be ninety-one.
MUNSEY MEMORIAL
Robert Ezra Munsey (1874-1901) was the son of James and Robert L. Hutsel Munsey. He was a merchant in Mechanicsburg, Bland County, Virginia. He married Agnes Gertrude Updyke (1870-1961) on October 6, 1896. Following is a memorial published in the BLAND MESSENGER in the fall of 1901. This memorial was written by Rev. W. C. Crockett, who served as a pastor in the Bland UMC Charge from 1898-1902. This memorial is from the Eleanor King Newberry collection at the Bland County Historical Society.

"Robert Ezra Munsey, son of James and Margaret Munsey, was born in Bland County, VA, December 11, 1874, and died from an attack of fever at his home in Mechanicsburg, VA, September 15, 1901.

He was converted at Valley View about 12 years ago at a meeting held by Rev. Phillip Kinzer. He joined the M. E. Church, South, soon after, and was a useful and consistent member.

He was married to Agnes Gertrude, daughter of A. G. Updyke, on Wednesday, October 6, 1897, by Rev. D. H. Carr. This was a happy union. The devoted husband was blessed with a faithful Christian wife from a highly esteemed family. They established a sweet Christian home and extended a cordial welcome and gave kind entertainment to friends. The observance of the Sabbath, family prayers and temperate habits, religious conversation and considerate kindness were among the sacred things of the home.

Robert Munsey was a good citizen and loyal to God, his church and home. With deep and clear convictions on moral questions, he was thoughtful, honest, and just, and held in high esteem in the community.

His antecedents on either side of the house were religious people.

He had the environment of Christian influence from his birth, and remained under its hallowed impressions, developing into a strong Christian character.

He was wonderfully blessed in the revival meeting at Mechanicsburg last February, and seemed thereafter more devoted to the Savior and His cause.

We will not forget the joyous shout of the father at that meeting, and how the son sought out the father in the great crowd and gave his hand and they two rejoiced together. "We Are Marching to Glory" was what the father was then singing. Just a little while and there will be rejoicing again is an unbroken congregation above.

Robert Munsey was a child of the gospel and a product of the Christian home. In his last moments he was perfectly resigned and thought and spoke of heaven. His last words to his brothers and partner in business were "meet me in heaven." His mother asked him when he could no longer speak if all was well to indicate it by the pressure of his hand, and the pressure of his hand clasped in hers spoke all was well.

He has gone to heaven where his reward is sure. He leaves a wife and child, mother, father, three brothers and one sister, Mrs. Foster Wagoner, all of whom have the deep sympathy of many Christian friends, as was attested by the large crowd present when the body was laid to rest near the residence of A. G. Updyke.

God bless the wife and child, the kindred and connection of our departed friend and brother, and minister all needed consolation while tears are falling; and after toil and weeping, give the joy of a glorious reunion, amid the acclamations and hosannas of the white robed, blood washed, in the eternal, city. W. C. Crockett"