Backward Glance

HISTORICAL SOCIETY LAUNCHES
NEW BOOK SERIES
The Bland County Historical Society is pleased to announce the publication of the first booklet in a new series, "Bland County Historical Glimpses." The first issue, entitled The Lynching of Ivy Jackson, Bland County Court House, VA, February 5, 1885, was written by Society volunteer, Ann Hardy Beardshall, PhD, and published in November 2011.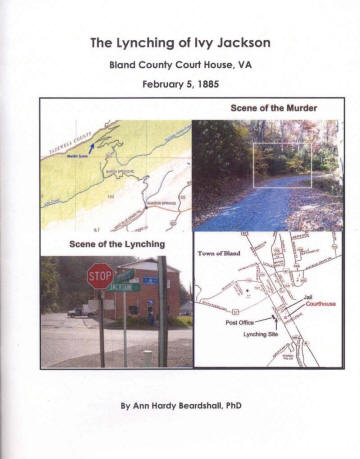 Beardshall states that she had a "rendezvous with Bland History" while attending an art exhibit sponsored by the Mississippi Museum of Art in Hattiesburg, MS, in November 2010. She viewed a display of a "lynching quilt" (70 ½ inches by 85 ½ inches) created by a Mississippi textile artist named Gwendolyn Magee. Superimposed on the quilt was a listing of lynchings that had occurred in the United States during the period 1880-1930. The listing that caught her eye was the one name in Bland County, Ivy Jackson, who was lynched February 5, 1885 (and for whom Jackson Street, in front of the Bland Post Office, is named).
Even though Beardshall grew up and spent her first 18 years in the town of Bland, she had never heard about the county's first and only lynching. This prompted her to begin an investigation of the Jackson lynching by scouring newspaper articles, interviewing county residents, perusing court order records and private journal entries, and also gaining permission from the husband of the deceased artist who created the "lynching quilt" to use photographs of the exhibit for this booklet. This investigative article is a must-read for all Bland County historians
The completed booklet is available at the Historical Society gift shop for $10.00 ($15.00 if shipped), and is a very informative addition to the Bogle Library collection. Order Now.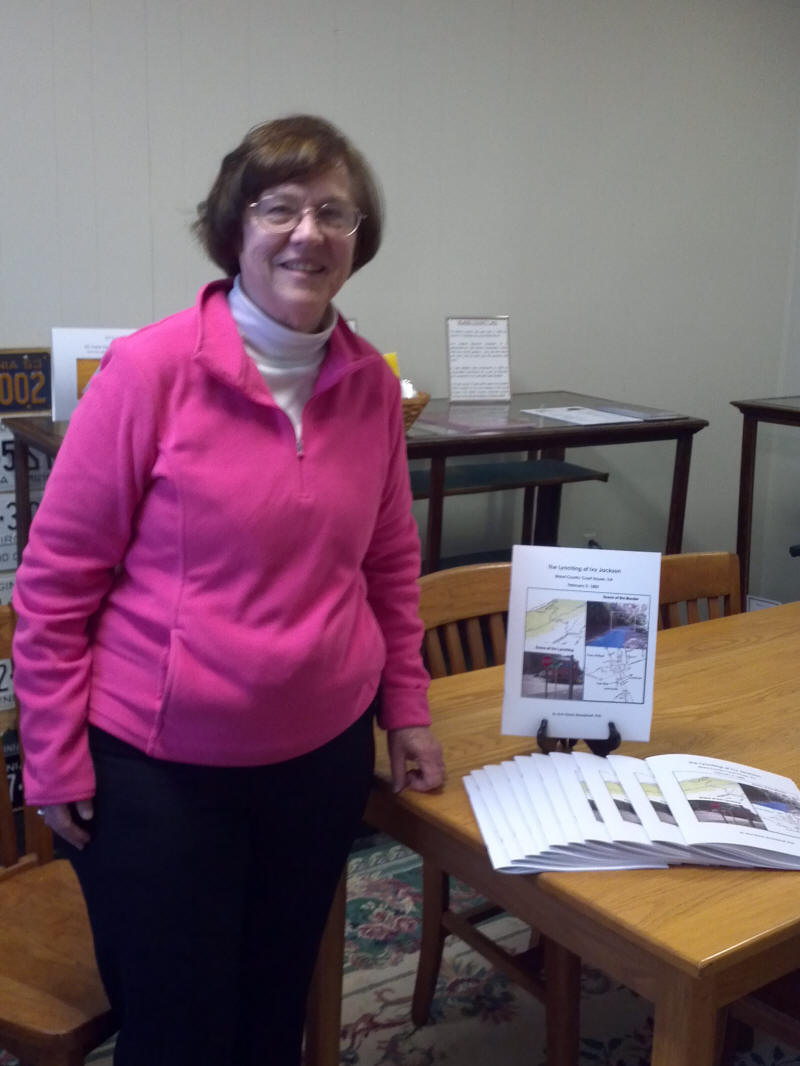 Ann Hardy Beardshall grew up in Bland, and is the daughter of the late Sam and Helen Hardy. She was a member of the Bland High School class of 1957, and graduated from The Woman's College of the University of North Carolina in Greensboro in 1961. She and her husband, Elmer Beardshall, will celebrate their fiftieth wedding anniversary in December 2011. The Beardshalls, who have two children and four grandchildren, spend the winter months at their home in Hattiesburg, MS, and the spring/summer/fall months at their second home in Little Creek. Both are very active volunteers at the Historical Society.
The Society plans to publish more booklets in this Bland County Historical Glimpses series, which will feature historic events in Bland County, Virginia. For more information, please contact Brenda King at 276-688-0088. Order The Lynching of Ivy Jackson Now!